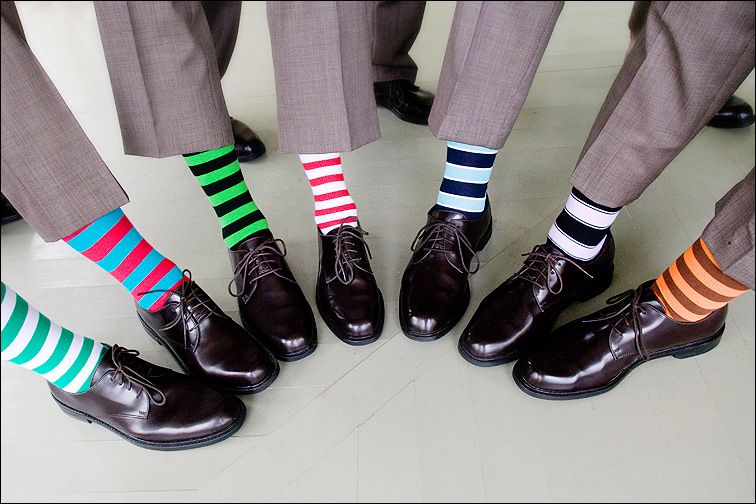 Socks play a very big role in optimal foot comfort. Since we tend to be on our feet a lot, the socks you wear do make a big difference. The sock market has become a huge industry recently. It's not just about white or black socks anymore. There is a huge market in the sock industry. Socks aren't something to be overlooked. Many people consider them a fashion accessory. So don't be left out in the dark. Don't be that one person that all they have are white and or black socks. Don't be that boring person. It's time to get in the game and upgrade your sock collection.
People might think that socks are an overlooked part of their wardrobe. To many it's just something you pick up, not something you pick out. A well picked out pair of socks is an opportunity to step up your style. Trust me, socks make more of a difference than you would ever imagine. So think about it next time you go pick up some new socks. It doesn't take much effort to step up your sock game.
First of all, you want to make sure you are picking out the correct size of socks. Yes, there are different sizes. Socks are normally broken up into three categories:
Mid-calf socks:

The all-arounder. These are by far the most popular and most versatile length of sock. Mid-length socks are suitable for work, casual events and semi-formal functions. Because of their ubiquity, you'll have no trouble finding a color or pattern that works for you.
Over-the-calf socks:

This more traditional length goes all the way up to your knee. The added material means you'll be choosing this more expensive option for special occasions, mostly.

Low-cut socks:

These hit at the ankle and are designed for athletic activity. Even lower-cut socks can help you achieve a "no show" look, but in either case, color isn't that important.

So make sure you are picking up the correct size when shopping for socks.
Now we gotta talk about color. What color socks should you get. There's obviously the basic black socks and white socks. The problem isn't just about black and white socks though. There's many different styles of socks out there. All colors come in many different shades. So how do you know what style, color or shade to buy? Here's an idea on shades on your basic colors:
Earth tones

: Taupe, brown, tan, off-white. The beige family might not scream scintillating, but trust us—it's infinitely more interesting than a pair of white crew socks. And these colors will work with pretty much anything.

Gray

: There are way more than 50 shades. From ash to charcoal—and everything in between—gray socks are a simple way to add contrast to your trousers.
Now how about bright colors. Not many would dare, but here's a few things to consider if you're brave enough:
Consider the season

: It's not written in stone, but colors like lime green, yellow and lavender are better for spring and summer. Cooler weather, cooler colors. You can wear green and red during the holidays, but no candy cane striped socks, ever.
Contrast is key

: If you're wearing a grey suit, don't wear grey socks. Similarly, complementary color theory (remember the color wheel from art class?) is useful when matching your socks with a dominant hue in your wardrobe, e.g. socks in the orange/red range are a good accent for a blue shirt.

Match your clothing, not your shoes

: First, match your socks to a color in your shirt or tie. Then select shoes that work with your overall outfit.
So hopefully now we have an idea that there is life beyond white and black socks. Step out of your comfort zone. Bring some excitement to your life. It's' time to put some color in your sock drawer. It isn't just about plain white and black no more. If that's all that's in your sock drawer, I think it's time to upgrade that sock collection. It's a whole new world of socks out there!!!