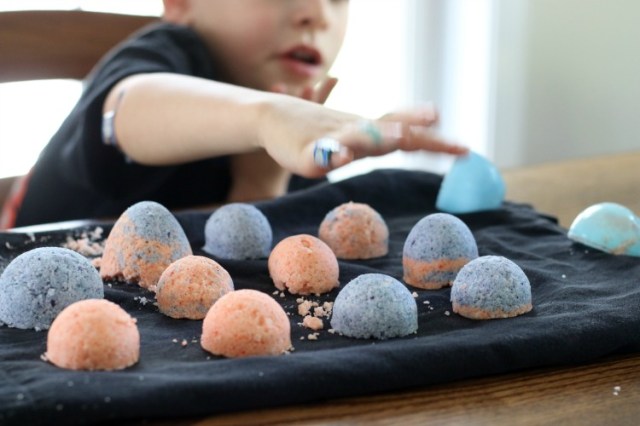 Introduction
Is your child always stressed out? Worry no more! All you have to do is try bath bombs when they are taking a shower, and you will notice how relaxed they will feel right after.
Sometimes, as a caregiver, you'll notice your children suddenly become allergic to water and soap because they do not want to take a bath. When this happens, load their bathwater with our bath bombs and make their bathing experience less horrific with zero screams.
What We Use to Make our Bath Bombs
Some chemicals can be harmful to your little ones' skin. They may cause flaking or even itching. Therefore, you must be careful about any bath bombs you introduce to your child's bathing routine so that they do not get harmed in any way.
Our bath bombs are made from various child-friendly ingredients, including:
Epsom salts – they aid in drawing toxins from the child's skin.

Essential oils – we utilize essentials oils in our bath bombs that are helpful in improving your child's mood and influence their body and mind.

Baking soda – this is an essential ingredient for alkalizing and drawing out toxins from your child's body.

Coconut oil – a moisturizer that will make your child's skin smooth while also soothing it

Citric acid – children love the fizzing sound produced when a bath bomb is dropped into the water. Citric acid helps to make the fizzing sound.

Corn starch – useful in preventing low blood sugar

Fragrances – the aroma-therapy is going to put your child in a very relaxing mood.
These ingredients are carefully blended to produce our unique bath bombs which your child will love. You do not have to worry about stressful bath times anymore. Our bath bombs do not contain any parabens; thus, your child will not soak in synthetic chemicals that might be dangerous in the long run.
Children love colors, shapes, and beautiful scents. The bath bombs offer precisely that. They come in different shapes such as shark tooth, sharks, hammerhead, shark head, spheres, apple, and pumpkin, among others. Your child will love playing with them in the water as they rejuvenate and calm them.
Our scents are uniquely selected to give your child a wonderful experience during bath time. You can choose a bath bomb from a mixture of a wide range of essential oils such as Lavender, Chamomile, Eucalyptus, Mint, Ylang-Ylang, Jasmine, Vanilla, Green Tea, Cactus Melon, etc. Moreover, there is a variety of colors used to make unique bath bombs.
With all these aspects incorporated in the bath bombs, your child will always be looking forward to the bath time because they know they will enjoy the experience.
Benefits of the Bath Bombs to Your Child
All the benefits of the bath bombs stem from the selection of ingredients used to make them.
They are suitable for your child's skin since the softeners act as moisturizers that indulge their skin. Therefore, their skin becomes softer, supple, and smooth. Not only will they moisturize their skin, but they will soothe it too.

They are vegan-friendly and made from natural products; hence, they do not contain any harmful irritants that may cause irritation to your child's delicate skin.

The effervescent balls give a bubbly experience to the child as they fizz and discharge magnificent fragrances. The fragrances will remain on your child's skin and also stay with them all day long. Therefore, your child will smell good, which will make them pleasant to be around.
Final Thoughts
We all love a soothing and relaxing feeling, and so do our children. Bath bombs will give your child a very joyous experience, and they will love using the bath bombs. Allow your child to look forward to bathing times by incorporating bath bombs into their routine. You can never go wrong with our bath bombs.