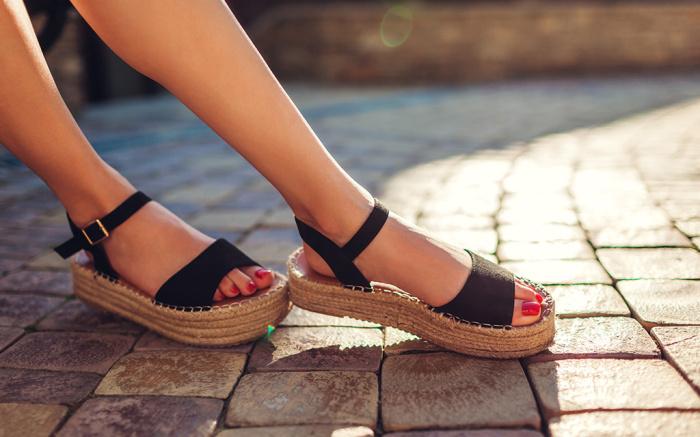 Today, platform sandals are actual summer footwear that attracts women with style, versatility, extraordinary comfort and the ability to combine them with almost all wardrobe items.
It would be wrong to think that the platform is an invention of modern designers. In fact, the high platform appeared many centuries ago.
At the performances of ancient theaters, the actors wore special shoes – koturni with high cork soles. This was necessary so that the artists could easily move around the stage, and the audience, even those sitting in the back rows, could follow what was happening on the stage.
In the Middle Ages in Europe, shoes with thick soles were worn, and this was not always a tribute to fashion, in many cases this was demanded by severe necessity.
For example, in Venice, beauties in luxurious outfits were forced to wear plinths with wooden soles. Visually, such shoes were a bit like a platform, the task of which was to enable a woman to move through the terrible mud along the streets and at the same time keep her dress clean.
Modern models of platform sandals are striking in their variety and originality. It is worth noting that all of them are designed in the general hippie-chic style, which makes it possible to complement the style of the early vintage and maintain such an image.
Discount Shoes on the platform, which are distinguished by maximum convenience and beauty, very remotely resemble their "predecessors". Leading footwear brands offer new platform options every season that delight lovers of everything feminine and sophisticated.
The actual "children's" style is becoming more and more popular every year. Sandals on a low platform (no more than three centimeters), visually reminiscent of children's sandals, with bows on the toe, thick straps and doll buckles are absolutely adorable, flirtatious and look great on a woman's leg.
But unisex shoes, despite their practicality and convenience, have lost their once strong position. Deliberately rough models with wide belts and bindings have practically disappeared from fashion collections.
From the variety of models presented at fashion shows, it's time to get confused. These are runway sandals on a very high grotesque platform, in which it is quite difficult to walk in real life, and gladiator sandals on a low sole with weaves of thin straps or laces that emphasize slender girlish ankles, and models with a slight touch of ethnicity on a platform that imitates cork or wood.
Sandals with a sole entwined with textile cords, which visually resemble espadrilles, look very nice.
In summer stylish discount Shoes, the platform takes on the original shape of a rectangular or triangular section. So, a solid platform, slightly sloping inward from the heel side, looks more elegant and compact from the side.
At the same time, it does not lose stability and is very comfortable to wear. Many eminent designers draw inspiration from the early vintage style, so they are happy to experiment with shapes, textures, decor, presenting to the judgment of fashionistas models that fit to be compared with real works of art.
Shoessee present beautiful original models for women on a high stable platform under the toe, which slims the leg and adds elegance and chic.